Birmingham Michigan Hair Salon – Beauty Collective
Hair Stylist & Makeup Artist, Christine Fitzpatrick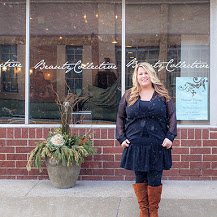 Hair Stylist/Colorist/Makeup Artist, Christine Fitzpatrick
Christine has been working as a Hair Stylist/Colorist/Makeup Artist for over eight years, five of which have been at Beauty Collective.  Taking care of each of her clients and enhancing their natural beauty is what she loves to do.  After receiving her Cosmetology license at Michigan College of Beauty in 2006, she then received a Beauty Artistry certificate at Make-Up Designory in California.  She has also received certificates from the world renowned Vidal Sassoon, TIGI, Wella, Martin Parsons, J Beverly Hills, L'oreal, Kemon, and Redken.  Utilizing all of her knowledge and experience, she dedicates herself to her career and clients.  Specializing in multi-dimensional hair color and haircuts with movement and texture to impeccable makeup and sculpted brows.  Christine loves creating a unique experience for each of her clients having their hair or makeup done at Beauty Collective.  Whether it's a client having highlights, color and a cut or a Bride getting a style and makeup on her big day, Christine makes sure that each client leaves the salon feeling and looking like their most beautiful self.  Brides are definitely one of Christine's favorite types of clients to work on; transforming them on their Wedding day is always such a pleasure for her.  She has even been voted a Best of Weddings 2013 & 2014 Award Winner with The Knot!
Services
Christine offers a variety of different makeup applications, from traditional to airbrush.  Airbrush makeup is known for how long it lasts, which why it is preferred by so many brides.  Utilizing the best techniques for you and your features, Christine will bring each of them out.  Smokey eyes and blushing cheeks are favored by Christine, as well as natural makeup.  She loves using her favorite types of makeup to enhane your features and glam you up.  Makeup can be done subtle or it can be done dramatic, regardless of which style is preferred, you will leave feeling more beautiful.
Makeup Lesson
Approximately 90 minutes of learning the art of the makeup application, personalized just for you.  From learning how to do every day makeup on yourself to doing your makeup for special events, Christine can teach you tips and techniques.  You will leave feeling more knowledgeable of your skin and your unique features, and what products you should be using.  Photos will be taken and face charts will be given, all for you to feel more confident in your overall skin prep and makeup application.
Eyebrow Arch
Training at Make Up Designory, Christine had to learn the many incorrect eyebrow arches before drawing the correct eyebrow arches over and over.  Yes, before even shaping brows she had to draw them.  Being taught to meticulously tweeze each individual hair and shape one's unique features to ultimately bringing out their unique face.  You'll never feel as bright-eyed as when you have your brows done by her.
Airbrush makeup is definitely the preferred method of application for Bridal makeup by Christine.  She loves getting to know the Bride and what exactly she would like her makeup to look like on her special day.  From soft and pretty to dramatic and sexy, Christine loves transforming her Brides with makeup.  The makeup application is uniquely designed for each Bride's facial features, as well as for the camera.  Your pictures will end up looking flawless forever, highlighting certain places and contouring other places creating dimension for the camera to pick up.
Training at some of the top academies in the world, Christine learned many variations of hair-cutting.  She has now combined them together, making them her own variation.  She believes in creating a foundation suitably customized to shape and frame your features, and then breaking up the shape to give it texture and movement.  Her shears have always been one of her favorite tools and she has perfected the skill of cutting over years of experience.
Hair color is ultimately a woman's best friend and definitely another one of Christine's favorite services to do.  Specializing in multi-dimensional hair color, she loves creating hair color formulations for each individual.  Bringing out their skin tone and eye color, every woman leaves her chair feeling and looking more beautiful.  Christine believes hair color is such an amazing transformation and when done properly can really make you and your feeling better than ever!  After training with Wella, TIGI, Redken, L'oreal, and Kemon, Christine has found her favorite color lines and what works best and most gentle.
Christine believes almost every woman should have depth and dimension to their hair and highlights and lowlights often are used to achieve that to get rid of mono-chromatic hair.  They're uniquely placed and colored to bring out your skin tone and eye color and will help brighten up what should be brightened up and tone down what should be toned down.  Shine, condition and texture are just a few other things these beautiful highlights and lowlights will help your hair achieve.
Creating updos and styles has become another one of Christine's favorite things to do.  Being trained by the TIGI academy, as well as learning Martin Parson's styling techniques have helped her to learn different styles and design.  Over the years of taking care of so many Bridal parties, she has received the practice needed to achieve beautiful and creative styles.  Texture, softness and a little drama are preferred when creating updos and beautiful styling.
In 2009 Christine starting testing out all of the different types of Keratin Treatments.  She has come to love a few certain brands, but her favorite has turned out to be the CHI Enviro American Treatment.  It eliminates up to 95% of frizz while making curly hair more manageable.  It is also a safe alternative to traditional harsh straightening systems, infusing the hair with a unique formula of amino acids, proteins, silk and pearl into the hair cuticle.  It has proved to her to be the most gentle and safe system out there.
Pictures of my work

Availability
Christine is great about accommodating her clients and can be reached anytime at (586)216-4239 or via email at christine.makeupartist@gmail.com.  To read more about Christine or see more of her work visit www.christinefitzpatrick.com.